Happy Skip the (Plastic) Straw Day, UESiders!!
And here's how we can observe the occasion:  Take the pledge to say "no" to plastic straws today and in time to come!! 
(We just equipped ourselves with not only a portable stainless steel straw but a snazzy little brush to keep that straw squeeky clean!!)  
Moving on to the coming week:
Saturday, February 16th:

  

82nd Street/St. Stephen's Greenmarket
82nd Street between First and York, 9am–2pm
Compost & Clothes Collection, 9am–1pm
At their tables will be our usual winter cast of great characters:  American Pride Seafood, Bread Alone, Samascott, Ole Mother Hubbert, SunFed Beef, Hawthorne Valley, Ballard Honey, Consider Bardwell (with some Consider Bardwell items), Gayeski and Nolasco Farms!!
Market Manager G has this news:  "Tyler Dennis –  of warm-weather regular Alewife Farm and always a treat – will be with us at the market this Saturday…  Along with Alewife spinach, cabbage, pea shoots, fava greens and dried peppers!!" 
G adds, "It's Academy Awards weekend so for those binge-watching movies or hosting an Oscar party, your 82nd Street Greenmarket is the perfect place to stock up on snacks and party menu needs." 
Last Week's Recycling Totals –  31 lbs batteries;  22 lbs cords, corks, cellphones and cartridges;   13 compost bins;  38 bags of clothes 
Believe it or not, last week someone absconded with most of the dead batteries collected in the UGS Bed Bath bin!!  Why would anyone want totally worthless – apart from the value of keeping them out of landfill – batteries???  All we know is that Bed Bath's not going to let it happen again!! 
M

onday, February 25th: 

 

"Selma" Movie Monday Screening 
67th Street Library, 328 Easst 67th Street, 3:30pm
The 2014 docu-drama detailing  the historic 1965 voting  rights march from Selma to  Montgomery, Alabama led by Martin Luther King Jr.  As always free!!  Rated PG-13.  Accessible.
Tuesday, February 26th: 

 

Special Election for NYC Public Advocate
Your Polling Place, 6am-9pm
Let's not allow the 2018 massive mid-term turnout to be an aberation!!  Yes,  there're a legion of candidates…  But busy as you may be from this moment till  the coming Tuesday, check out NY1's first  and second debates, then get yourself to your polling outpost and VOTE!!
Hello, March:
Saturday, March 2nd:

  

Intro to Birding – Bird Walk in Central Park
Meeting Place Confirmed with Reservation, 8-10:30am
Learn the basic birding ropes on a relaxed stroll through the Park's avian hot spots and under the tutelege of guide Tod Winston!!  Binoculars available, too!!  Members, $25.  Non-members, $36.  For reservations or 212-691-7483 x304…  
Saturday, March 2nd:  

NYS Budget Forum with State Senator Krueger
New York Academy of Medicine, 1216 Fifth Avenue, 2-5pm
Kind of a dream come true this chance to tell your NYS State Senator what you think – albeit in just 3 minutes – about this year's proposed state budget!!  Just let  the powers-that-be know you want to speak when you RSVP or 212-490-9535…   (You can also submit a written statement in advance!)  For more…
Monday, March 11th: 

 

GrowNYC Job Fair  
GrowNYC's Project Farmhouse,  76 East 13th Street, 5:30-7:30pm
Work doesn't get more fulfilling than with GrowNYC, be it at a Greenmarket, a Youthmarket, the Fresh Food Box Program, Gardening, Compost and Recycling,  the Youth Education program and more.  Yes, there are some qualifications, but that's what a job fair's about:  The right people and the right fit!!  For more and to RSVP… 
Friday, March 15th:

  

Stewardship for Sustainability – 2019 ReLeaf/Urban Forestry Workshop
New York Society for Ethical Culture, 2 West 64th Street, 9am-4pm
Among the subjects explored:  Volunteer Tree Stewardship, Professional Tree Stewardship (volunteers can't do everything!) and Big Picture Stewardship and the Cool Neighborhoods Initative!!  Members, $25.  Non-members, $35.   For more and how to register… 
Saturday, March 16th: 

 

Shred-A-Thon – Erin Go Bragh 2019 Edition
82nd Street Greenmarket, 82nd Street between First & York, 10am-2pm
Just remember:
NO cardboard or plastic-handled shopping bags.
REMOVE paper clips and spiral bindings. 
NO HARDCOVER BOOKS.   (But paperbacks are fine.)
(Take hardcovers to the Webster Library Branch, Goodwill or Housing Works.)
Major thanks to CMs Kallos and Powers fand AM Seawright for their generous support!!
April'll be here before we know it:
Tuesday, April 9th: 

Presentation of the NY & NJ Harbors & Tributaries Study by the Army Corps of Engineers
Alexander Hamilton U.S. Custom House, 1 Bowling Green, 5-7pm
A study that matters to UESiders for at least 2 huge reasons:  1) Management/mitigation of the increasingly severe storms affecting the waters surrounding our city and 2) the shocking proposal to run a fracked gas pipeline – the Williams Pipeline – through the NYC harbor!!  One of  7 meetings in the area studied.  For more…  (Bet it's the first time you've read anything from "Dredging Today"!)
A brief activist prelude:
If you object to construction of that Williams fracked gas pipeline and its inevitable impact on natural life in the New York Bay…
Miscellaneous miscellany following:
Useful, going-more-plastic-free tips from The Times…  
Should anyone of your acquaintance not yet be clear on the plastic straw blight…
Yet more green job opportunities, this time working at the Oyster Project…
From out of the past:  The button below fell out of the ceiling of a house being renovated in Lumberland, NY: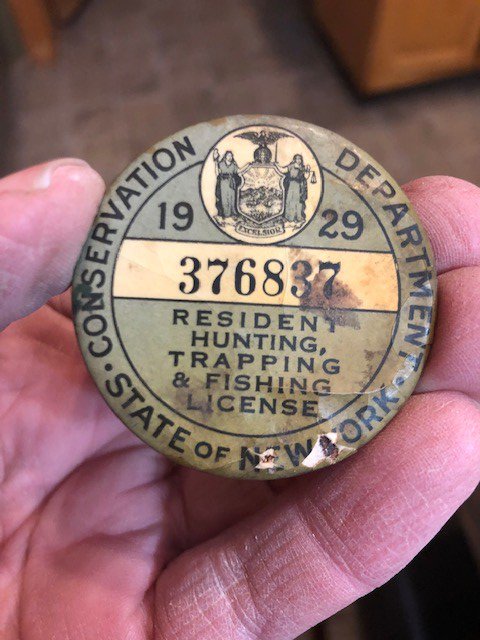 In 1917, the NYS Legislature passed an act requiring hunters and trappers to wear a button that corresponded in type and number to their paper hunting license.
More busy  days for Environmental Conservation Officers…
Going NYC-centric:
An interactive map charting NYC population movement…  And how it evolved…
Beyond the classics, there're a ton new pasta shapes on the NYC scene…
The latest best NYC bagel survey…
How about a scale model of Manhattan constructed from recycled computer parts by a Zimbabwe teenager…??  (Thanks to reader Renee Pappas for the tip!) 
Let's have some animals:
Who knew that not only do we have the legendarily bad-tempered fisher cats in NYS, but that the DEC's studying their population… 
Then there're the canine field assistants participating in turtle research…
The world's largest bee's still with us…
As always, some snippets from the Hudson River Almanac:
2/14 – Greene County: I found a cluster of 25 black vultures in a wood lot just north of Catskill, near the Greene County transfer station. – Rich Guthrie 
[Such a grouping of black vultures always conjures up an image of a convocation of undertakers. Thus, it seems fitting that a collective noun for them would be "a wake" of vultures. – Tom Lake]
Hudson's River Almanac's Fish of the Week:
2/15 – Hudson Valley Estuary: This week's fish is the banded rudderfish (Seriola zonata), a marine species number 175 (of 228) on our watershed list of fishes. Banded rudderfish are not large – generally a foot-long or less – and are one of six members of the jack family (Carangidae) found in the estuary.  A few of the others are crevalle jack, lookdown, moonfish, and permit.
The banded rudderfish was one of those marine species that we have always thought might be here, but their prescence was so sporadic that finding one had proved difficult. That is until August 7, 2014, when Chris Anderson of The River Project spotted a school of silvery fish with black vertical bands swimming just off Pier 40 in the Hudson River. Chris took several high-quality photographs that allowed us to identify them as banded rudderfish. All were estimated to be about 250 millimeters (mm). We added the banded rudderfish to our watershed list of fishes.
Four years and four days later, Peter Park and his Brooklyn Bridge Park colleagues came upon a school of banded rudderfish in the East River along Pier 5 at Brooklyn Bridge Park. They counted five fish, all about 180 mm. Peter hoped to catch one on rod-and-reel. That came eight days later in the East River at the Brooklyn Bridge Conservancy. Using frozen "spearing" fillets (Atlantic Silversides), he and Isa Del Bello caught seven ranging in size from 200-240 mm. — Tom Lake
There's a Bird of the Week, too
Happiness is greenness,
UGS